Let's play
Thank you for your interest in my studio. As a lifelong pianist and classically trained musician, I am excited for the opportunity to share the joy of piano playing with you and your kids. As someone who learned piano the old-fashioned way (hours of scales, anyone?) I understand the fear, frustration and feelings of futility such a learning style can create. It is my belief that with the Simply Music method – a method I've already started with my own children – such feelings will be replaced by a sense of fun, accomplishment and an enduring love of creating music.
Simply Music
The Simply Music method of piano instruction is, in the best sense of the phrase, non-traditional. Students, be they 8 or 80, start playing real songs from the very first lesson – and between 35 and 50 songs during the first year alone. Simply Music taps into the inherent musicality inside everyone (you may not believe you're musical; but if you weren't, you couldn't walk and talk at the same time). As students advance through the program's levels, they learn improvisation, musical expressiveness, different playing styles and, yes, how to read music. Also, while private lessons are available for special situations, teaching is most often done in a group setting.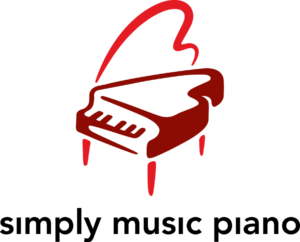 Instead of trying to recreate everything on the Simply Music website, I invite you to visit it for yourself by clicking here. Or watch the video below featuring the creator of Simply Music, Neil Moore:
Come on in
My studio is home-based and located in the Mission Pines subdivision of Millard, just a couple of blocks northwest of the 168th St. and Harrison St. intersection. Two rooms in the front of our house are dedicated to the studio, providing ample space for students, parents and siblings to gather.
About Megan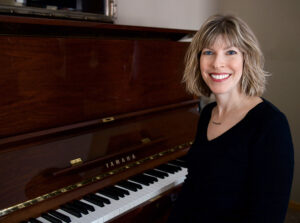 I grew up the youngest of three girls in a music-filled home in Iowa, and began traditional piano lessons at the age of five. As the years went on, music became a passion – first with piano, then the trumpet and finally with voice. During high school, I toured and performed with several statewide honor bands and vocal performance groups.
After first entering Luther College's acclaimed music program as a piano performance major, I realized I loved playing piano for myself more than performing pieces for others and eventually switched my studies to vocal performance. I graduated with a B.A. degree in music and management.
Following college, I performed in several professional and community musical theatre productions, as well as my own one-woman music revue. I currently fill the roles of wife to my husband, Jason, and mother to my three children. I also enjoy singing and playing keyboard on the worship team at my church.
This website is intended (for the moment) to give just a brief overview of myself and the Simply Music program. I'm sure you have many more questions about Simply Music, and I will be happy to answer them. I would also encourage you to attend one of the free introductory information sessions that I hold whenever new classes are forming or interest warrants (and as the TV commercials say, there's absolutely no obligation). For more info about myself, class schedules, Simply Music or to sign up for an introductory session, please fill out the form or feel free to call me at 402.979.6369.
Happy playing!
Megan